Toy Hauler Skreenz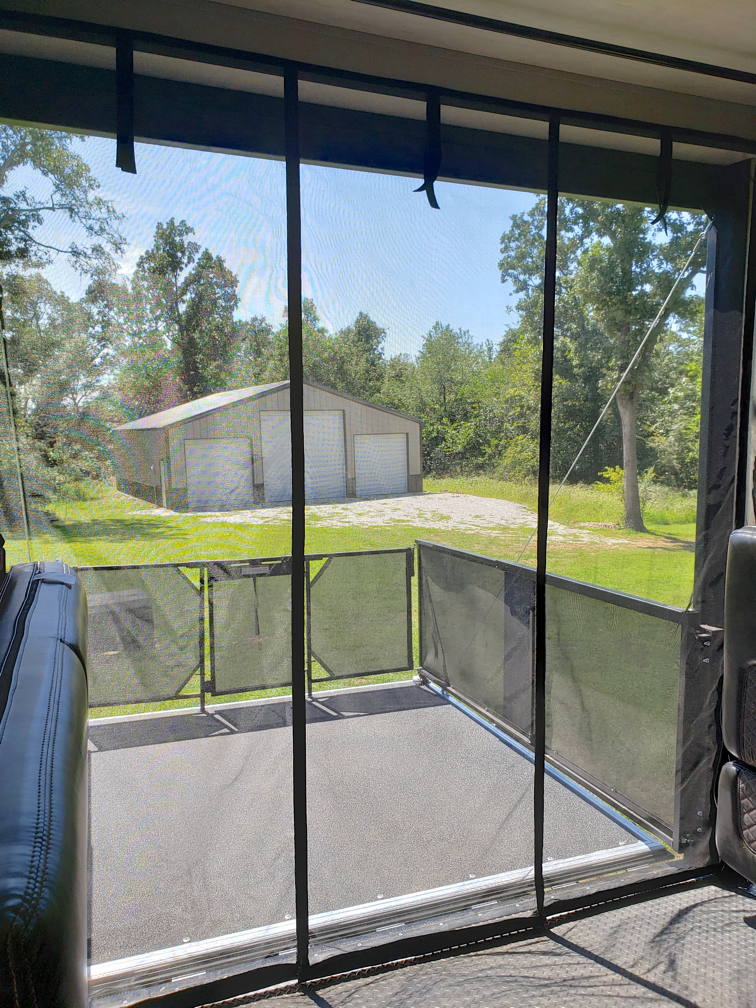 Toy Hauler Skreenz can be made for any Toy Hauler. The one pictured above is 103 inches tall and 101 inches wide. We fabricate Toy Hauler Skreenz for Coachmen RV Industries, Haulmark Motorcoach, Heartland, Newmar, Crossroads, Cruiser RV, Forest River, Gulf Stream Coach, Jayco, Keystone, KZ-RV, Lance Camper, Northwood, Primetime, Thor, Winnebago, and others.
ToyHauler Skreenz™ has separate screen sections connected with zippers so you can open the screen to various widths for access.
Each sections can be rolled up and tied with provided tie straps.
The ToyHauler Skreenz™ is held in place by adhesive backed Velcro with the mating Velcro sewn to the outside perimeter of the ToyHauler Skreenz™.
Special screws are provided to firmly attach the top of the ToyHauler Skreenz™ to the inside ceiling of the ToyHauler.
Metal rods in the lower seam keep the ToyHauler Skreenz™ hanging straight.
All of our products are made in the USA (North Carolina) from materials manufactured in the USA!
The price for ToyHauler Skreenz™ starts at $550 for a 96 inch by 96 inch opening plus packing/shipping via US Postal Priority Service.
Please contact us for a quote for your particular Toy Hauler via telephone 828-606-3130 or eMail Blethen@Skreenz.com
© Skreenz 1986-2022